Well, better late than never... It's taking me a while to catch up to normal life since my trip to Portland!
Our class of 6 amazing massage therapists learned Ashi-Thai at the beginning of June in Portland - in the middle of a funny mix of weather. So here's a warm welcome into the realm of Ashi-Thai for Nancy, Cheryl, Akemi, Andrea, Darla, and Sarah! It was gorgeous and sunny while we were in class, then torrential downpours of rain afterwards...but still very pretty. During class we had the windows open listening to local bands play on the sidewalk and scooters zoom by, then by night we dodged the rain by running into yummy thai food restaurants!
I don't have the picture of the students yet - for once I wasn't taking pictures all day long, I was just enjoying every moment of that RAD town! I received a Chavutti Thirumal massage - of which I'll post about in detail as soon as I can! So in the meantime here is one picture I snapped from a building near where we were ;)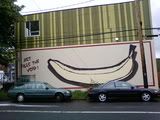 BTW: New Barefoot Basics & Anterior/Sidelying Ashiatsu class is added to my schedule~ it's in San Antonio in August!