Its a hot hot summer in San Antonio, and we're just warming up! These 8 fabulous pairs of feet were on fire last weekend learning Ashiatsu's Barefoot Basics course with me.
And these are the ACTUAL feet of the 6 gals who joined me for Anterior/Sidelying!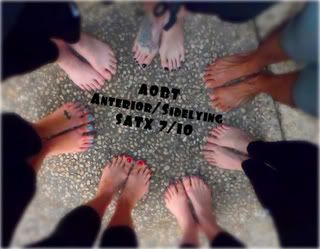 So say "Howdy" to Dana, Kheng, Summer, Emily, April, Sarah, Suzanne, Kristie, Jordan and Courtney!